Braces and Retainers – Care and Troubleshooting Guide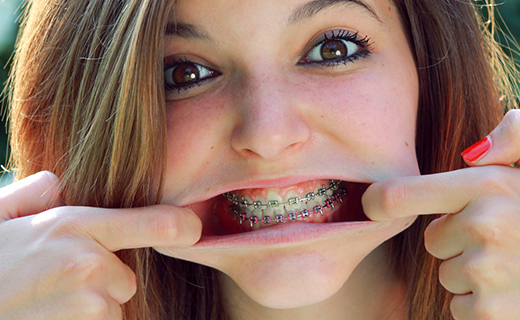 Dental misalignment problems usually develop early in life. Fortunately, affordable braces are available to guide teeth into the proper position over a period of time. Caring for braces is a challenge for any kid, but learning proper care and maintenance is essential for getting the best results. Here are a few tips to help you and your kids deal with the most common problems and care requirements of braces for kids. Caring for Braces and Retainers
Brush after every meal and snack with a soft toothbrush.
Brush down from the top and up from the bottom of each tooth.
After regular brushing, use a Proxabrush to clean between the braces.
Floss using a gentle, sawing motion. Feed the short end of the floss through the space that separates the main arch wire from the upper portion of the tooth nearest the gum.
After brushing braces and flossing, brush the retainer.
Disinfect the retainer every day by soaking it in denture cleaner and warm water.
Use orthodontic wax to improve comfort if braces or retainers cause irritation, or to reattach loose brackets.
Use a pencil eraser to adjust broken or protruding wires into a more comfortable position. If this is not possible, use orthodontic wax to cover the protruding end. Do not try to cut the wire.
If a band becomes loose, save it and schedule an appointment with your orthodontist to have it cemented back into place or replaced.
Loose spacers must be repositioned or replaced by the orthodontist.
If mouth sores develop from exposure to broken wires, rinse with an antiseptic mouthwash or warm, salty water.
Avoid foods that are hard to bite, tough, or chewy, such as apples, raw carrots, bagels, chewy caramels, corn on the cob, popcorn, and nuts. Do not chewing gum or ice.
Wear a mouth guard if you play sports.
To get the dental care you deserve from an affordable dentist in Rockledge, call today at or make an appointment. offers affordable family dentistry and gentle, compassionate dental care in Rockledge. Our office is conveniently located with extended hours to meet your needs. At , we provide most dental services, from basic preventative care and general dentistry to specialized procedures and complete dental reconstruction. We accept most dental insurance plans and offer affordable financial solutions for any budget. Patient satisfaction is our top priority and we strive to provide the exceptional, affordable dental care and personal touch that lead to lasting relationships. A smiling patient is our greatest reward and we look forward to keeping those smiles healthy, beautiful, and bright. Discover an affordable dentist who truly cares at .