Posted under:
General
Posted on: April 16, 2015
Don't Let Your Kids Inherit Your Fear of the Dentist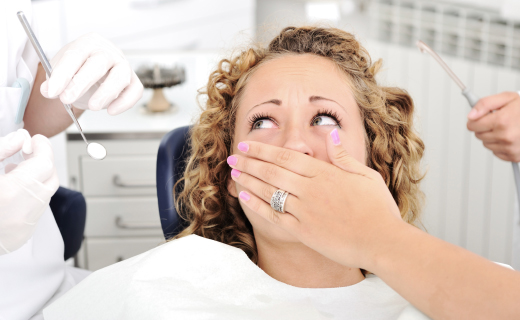 If the thought of a dental appointment makes you break into a cold sweat, you're not alone—as many as eight out of ten Americans suffer from some form of dental anxiety. Since April is National Anxiety Month, it's the perfect time to address your fear of the dentist and get the dental care you need to maintain your healthy smile. While avoiding your dentist might bring short-term relief from dental phobia, it will also increase your risk of tooth decay, gum disease, and bad breath. You may even lose your teeth. Reasons for Dental Phobia You could have developed your fear of the dentist for a number of reasons. A painful or negative childhood experience is a common cause. Perhaps the strange smells and sounds of a dentist's office frighten you, or maybe you've felt out of control during a dental procedure. Other possible reasons include being embarrassed about your teeth, hearing scary dentist stories from others, or simply having to face an unknown treatment. Avoid Passing Along Your Fear of the Dentist to Your Kids According to a recent study released by Delta Dental Plans, a fear of the dentist may be inadvertently passed along from parents to children. About half the parents surveyed reported having some form of dental phobia. The same number of children confessed to having the same fears. Experts believe that kids can easily pick up on their parents' negative feelings and dental anxiety, so it's important to both address your own fear of the dentist and stay positive when discussing dental care with your kids. Here are several ways to help manage your dental phobia and prevent it from spreading to your kids.
Find a dentist who specializes in treating patients with dental phobia. 

Use relaxation techniques.
Wear headphones during treatment, so you won't hear the drill or other sounds.
Share your fears with your dentist and his or her staff.
Before having a procedure, ask your dentist to explain every step in detail.
Agree on hand signals to communicate with your dentist during treatment.
Ask your dentist about sedation dentistry. Modern anesthesia options can often help to ease anxiety symptoms.
Get professional treatment for your dental anxiety.
To learn about our family dentistry practice in Rockledge, call today at or make an appointment. offers affordable family dentistry and gentle, compassionate dental care in Rockledge. Our office is conveniently located with extended hours to meet your needs. At , we provide most dental services, from basic preventative care and general dentistry to specialized procedures and complete dental reconstruction. We accept most dental insurance plans and offer affordable financial solutions for any budget. Patient satisfaction is our top priority and we strive to provide the exceptional, affordable dental care and personal touch that lead to lasting relationships. A smiling patient is our greatest reward and we look forward to keeping those smiles healthy, beautiful, and bright. Discover an affordable dentist who truly cares at .