Posted under:
General
Posted on: May 14, 2015
Get in Touch with Sensitive Teeth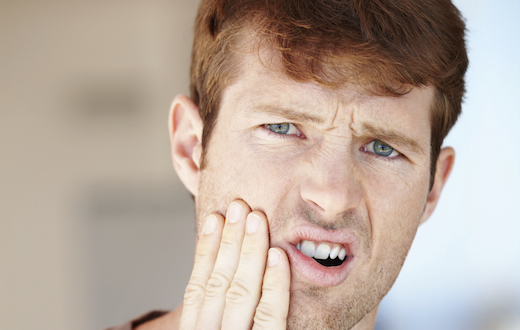 Do you experience shooting pains around teeth when tasting something extremely hot or cold? If so, you're experiencing a dental condition called tooth sensitivity. Find out how you can treat sensitive teeth and prevent the pain from returning. Understand What Causes Tooth Sensitivity Tooth sensitivity is a dental condition where the tooth's enamel or gums have receded to the point that the tooth's inner layer called dentin becomes exposed. Since dentin is directly connected to the tooth's nerves, any extremes in heat, cold, or touch can cause twinges of tooth pain. Abrasive toothpastes, harsh brushing, highly acidic foods and drinks, or certain medical conditions typically cause sensitive teeth. Fortunately, a specialist in family dentistry can help you avoid or address the issue. Reduce the Risk of Sensitive Teeth Sensitive teeth may be common, but they don't have to happen to you. You can reduce your risk of suffering from tooth sensitivity with these suggestions:
Practice proper dental hygiene with daily brushing and flossing.
Select a non-abrasive toothpaste.
Brush your teeth using an extremely gentle touch.
See an expert in family dentistry if you feel any tooth sensitivity.
Reduce your intake of acidic foods and beverages.
Don't Wait Too Long to Seek Relief Make an appointment with an expert in family dentistry at the first sign of tooth sensitivity. Discuss your dental discomfort and get a complete examination. If you're dealing with sensitive teeth, you'll likely be offered both at-home and professional treatment options, which include:
A non-abrasive toothpaste made for sensitive teeth to prevent additional enamel erosion.
A high-fluoride gel, rinse, or toothpaste to fend off future decay.
A protective resin or varnish applied to the teeth.
Crowns or bonding to strengthen severely decayed teeth.
To learn about our family dentistry practice in Rockledge, call today at or make an appointment. offers affordable family dentistry and gentle, compassionate dental care in Rockledge. Our office is conveniently located with extended hours to meet your needs. At , we provide most dental services, from basic preventative care and general dentistry to specialized procedures and complete dental reconstruction. We accept most dental insurance plans and offer affordable financial solutions for any budget. Patient satisfaction is our top priority and we strive to provide the exceptional, affordable dental care and personal touch that lead to lasting relationships. A smiling patient is our greatest reward and we look forward to keeping those smiles healthy, beautiful, and bright. Discover an affordable dentist who truly cares at .