Posted under:
General
Posted on: February 5, 2015
How Your Dentist Can Treat Your Chipped Tooth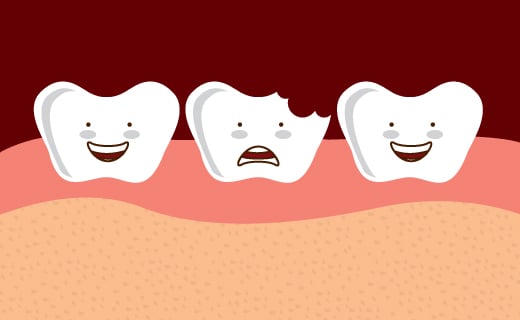 Chipped teeth can range from minor nuisances to serious dental injuries. If your tooth is still in place, and you have no gum bleeding, pain or sensitivity to hot or cold, you may only have superficial damage to the tooth's enamel. With a minor enamel fracture, there is little risk of pulp damage, and you can wait for a few days to see your dentist. If the tooth has sharp edges that irritate your tongue or cheek, place a small amount of orthodontic wax over the rough area to protect your sensitive tissues. Your dentist can treat your chipped tooth, and restore normal appearance with a filling, a cap or a crown. Tooth Injuries that Involve the Dentin Fractures may involve your tooth's dentin. These injuries often cause sensitivity to hot or cold temperatures. If you delay in getting treatment, the prolonged exposure to bacteria can cause the inner pulp of your tooth to die, and pulp death often leads to serious infections and abscesses. Try to see your dentist in Rockledge as soon as possible to avoid complications and save your tooth. Treatment for an injury involving dentin usually includes a sedative dressing, a dental filling, a crown or cap, and follow-up x-rays in several months to ensure that the pulp is still alive. Damaged Pulp Caused by a Chipped Tooth Should an injury severely damage the tooth pulp, your dentist may perform a root canal; this procedure involves removing the dying pulp and nerve tissue and replacing it with an inert substance to restore stability and prevent infection. If root canal treatment is not feasible, the tooth can be extracted. If you have suffered a chipped tooth or another type of dental emergency, don't delay in getting treatment because of finances or fear of pain. Delays could cause increased pain, infection, or even tooth loss. An affordable dentist can determine the most cost-effective way to manage tooth injuries of any type, and modern dental technology offers many ways to manage pain and anxiety. To get the dental care you deserve from an affordable dentist in Rockledge, call today at or make an appointment. offers affordable family dentistry and gentle, compassionate dental care in Rockledge. Our office is conveniently located with extended hours to meet your needs. At , we provide most dental services, from basic preventative care and general dentistry to specialized procedures and complete dental reconstruction. We accept most dental insurance plans and offer affordable financial solutions for any budget. Patient satisfaction is our top priority and we strive to provide the exceptional, affordable dental care and personal touch that lead to lasting relationships. A smiling patient is our greatest reward and we look forward to keeping those smiles healthy, beautiful, and bright. Discover an affordable dentist who truly cares at .