Posted under:
Root Canal
Posted on: November 24, 2020
Invisalign: Frequently Asked Questions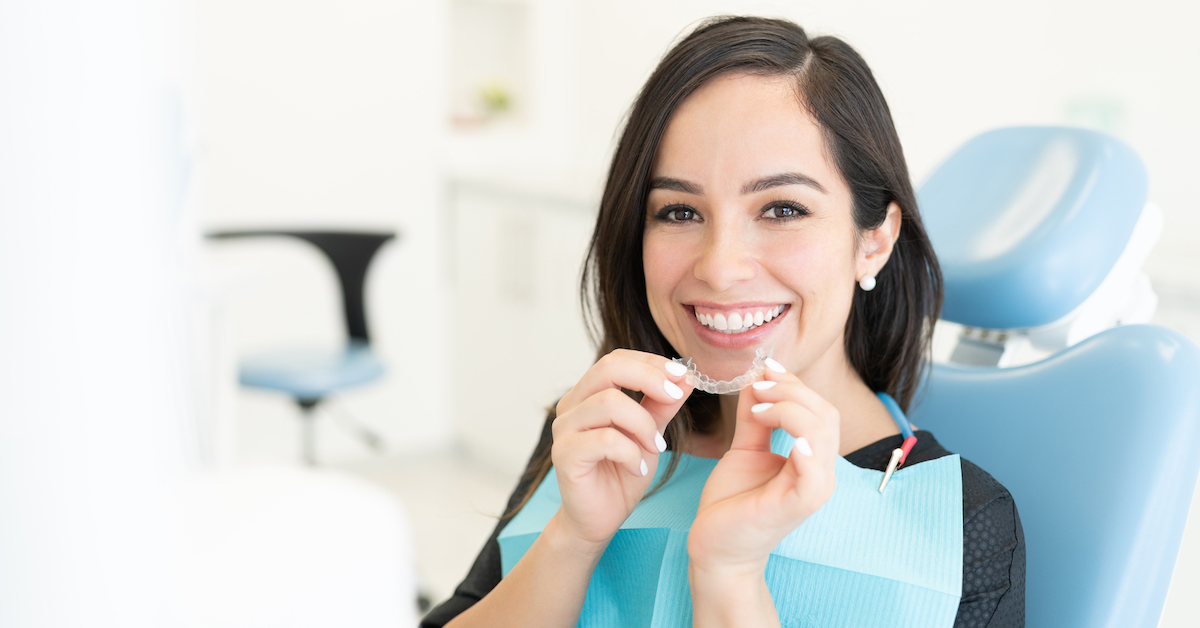 Finding ways to improve the appearance of your smile can boost your self-confidence in a wide range of social and professional situations. If you are sometimes embarrassed about your crooked teeth, you may be less likely to smile. This can limit your ability to make the best possible impression on those you meet. Taking steps to correct your crooked teeth by using Invisalign or another orthodontic treatment will typically help you feel much more confident in showing off your smile in your daily interactions.
Can Invisalign Fix Crooked or Misaligned Teeth Easily?
Invisalign is an orthodontic system that can be used as an alternative to traditional metal braces that use wires and brackets to correct the alignment of your teeth. The Invisalign system is fabricated using a flexible and transparent plastic material known as SmartTrack. The aligners created using SmartTrack are designed to fit tightly over your teeth and to put firm pressure on the teeth that need to be moved to create even and straight teeth.
Invisalign consists of a set of aligners that have been carefully designed to provide sequential and progressive correction for crooked teeth. You begin with the first aligner, wear it for a week or two and then move on to the next until you have completed the full course of treatment. The number of aligners you will go through depends on the degree of correction needed for your teeth.
Invisalign is a great option for those who want to correct crooked teeth while reducing the impact that braces can have on their appearance. Because Invisalign is transparent, it is less likely that others will even notice that you are wearing it. This can give you greater confidence in dealing with all your daily activities.
Is Invisalign Right for Your Teeth?
Invisalign is best suited to adults who can commit to wearing it for at least 20 hours each day. Older teenagers may also be good candidates for Invisalign, but they have to agree to certain conditions. It's important to note that the Invisalign system is not right for everyone, especially in cases of severe correction issues. We've outlined a few more instances below:
Invisalign is usually more expensive than comparable metal-and-wire braces. For families on a tight budget, this can make Invisalign less attractive as an option for correcting crooked teeth.
Patients who are not concerned about the impact of traditional braces on their appearance can save money on the cost of their orthodontic care by opting for traditional braces.
Because Invisalign is designed to provide mild to moderate correction for orthodontic issues, it is usually not recommended for severely crooked teeth. In these cases, the use of traditional braces is usually the better option.
At our dental practice, we will work with you to determine the best and most practical options for your needs and your budget. If Invisalign is right for you, we will offer support and guidance throughout the process.
What Are the Key Steps in the Invisalign Process?
Your first appointment for Invisalign will typically consist of a brief examination of your teeth and a consultation with our orthodontic specialists. This will allow you and your dentist to determine if Invisalign is the right option for you.
We will also take molds of your teeth, which will then be used to fabricate the trays used to align your teeth during the Invisalign treatment process. The number of trays you will need depends on the amount of correction needed.
When the aligners have arrived in our office, we will schedule an appointment with you. Our dental team will check the fit of the Invisalign aligners and will discuss your treatment plan with you.
You will start by wearing the first aligner for about two weeks. We may schedule an appointment to check on the progress of your teeth-straightening process at this time. If everything looks good, you will move on to the next aligner in the series. Over time, you will change aligners multiple times to complete the Invisalign process.
We will schedule check-ups with you throughout the process to make sure that Invisalign is working effectively to correct your crooked teeth. This will allow you to feel more confident and will help you manage your dental care regimen more effectively.
Is Invisalign Going to Impact My Daily Life Negatively?
You will almost certainly adjust to wearing Invisalign within a few days after beginning treatment. Most of our patients find that the system is comfortable and soon feels just like their own natural teeth. You will be able to speak and smile with greater confidence, which can help you feel more at ease in everything you do.
Invisalign is designed to allow you to sleep in your aligners without difficulty. This will allow your crooked teeth to straighten even while you are asleep. The system is comfortable and will not usually have any impact on your ability to sleep peacefully.
You will need to remove your aligners while you are eating, drinking or brushing your teeth. Invisalign aligners can become stained or damaged if you try to eat or drink while they are still in place.
If you have questions about the changes you can expect with Invisalign, our dental team will be happy to work with you to determine the correct answers for you and your family.
What Happens After the Invisalign Process Is Complete?
You may need to wear a retainer for a short time or periodically for a long time after your Invisalign treatment is complete. This may be necessary to keep your teeth in the proper position and to prevent them from returning to their previous state.
Can Invisalign Be Placed By Local Dentists?
We can provide you with the best recommendations and the most practical help in improving the appearance of your smile and the health of your teeth and gums. If you are interested in Invisalign or any of our other services, give us a call today to schedule your first appointment with our team of dedicated dental professionals. We look forward to hearing from you.