Nice smiles, helped by dentistry, make good impressions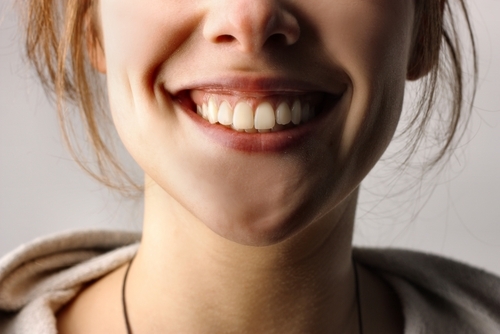 The person who coined the phrase, "A nice smile goes a long way," knew how much that means to others. Three out of four Americans surveyed said they would trust a person with a nice smile more than someone with a good job, an attractive outfit or an impressive car, a nationwide study found.
The survey of more than 1,000 people across the U.S. by Kelton Research lent credence to how much a smile that shows a mouthful of unstained, well-cared for teeth can influence people's social life, confidence and job success.
When study participants were shown a series of images in which some people had straight teeth and others had crooked teeth, those with straight teeth invariably drew a more positive response. About one-third of those surveyed said they notice a person's teeth before other facial features.
People with better looking teeth also created a greater impression of being financially and professionally successful, intelligent, healthy and happy. In fact, having a well-tended mouth is so important to most people, the study found, that 87 percent of respondents said they would give up something for a year in order to have an attractive smile for the rest of their lives.
Many options
The Kelton survey showed how great an impression is left by people who have a nice-looking smile, and perhaps more importantly, by those who do not. But in an age when adults are going to a cosmetic dentist because they didn't have their teeth straightened as a child, or using a variety of solutions to restore the white teeth of their youth, there's no reason an unattractive set of teeth should spoil someone's appearance.
"Many people tend to focus on fixing the things about themselves they think will have the biggest impact, often overlooking one of the most impressionable physical attributes like their teeth," said Timothy A. Mack , an executive with the manufacturer of Invisalign braces, which commissioned the Kelton study.
Invisible braces are just one of the products that can improve the look of one's teeth. First and foremost, people should have their teeth checked regularly by their family dentist to make sure they aren't harboring any gum inflammation or tooth decay. Once their teeth are pronounced healthy, they can move on to dentistry that will improve how they look.
Implant dentists, for instance, can introduce a variety of options to fill in gaps where teeth are missing. The difference between having dentures made to replace teeth is that implants are permanent and don't need to be removed daily. They also don't require any more care than normal dental hygiene.
Careful whitening
One of the easiest and most accessible cosmetic improvements that people can make to their smiles is removing stains and yellowing left by coffee, tea, red wine and smoking. There is a wide range of products, from home kits to professional whitening by dentists, that can be used to restore the sheen of healthy teeth.
However, before using whitening strips, WedMD.com recommends scheduling a visit to the dentist office. Making sure that one's dental health is in good shape is an important step before the cosmetic work begins. Having a cavity or inflamed gums could interfere with the whitening treatment.
Another concern with home kits is that they be used correctly. Following the manufacturer's instructions will provide the best possible outcome. Sometimes people think that leaving whitening strips on longer than prescribed will make their teeth look better. They could end up with uneven splotches and tooth sensitivity instead of achieving the full effect of brightening without going to a dentist for a professional job.