Reasons and Remedies for Tooth Discoloration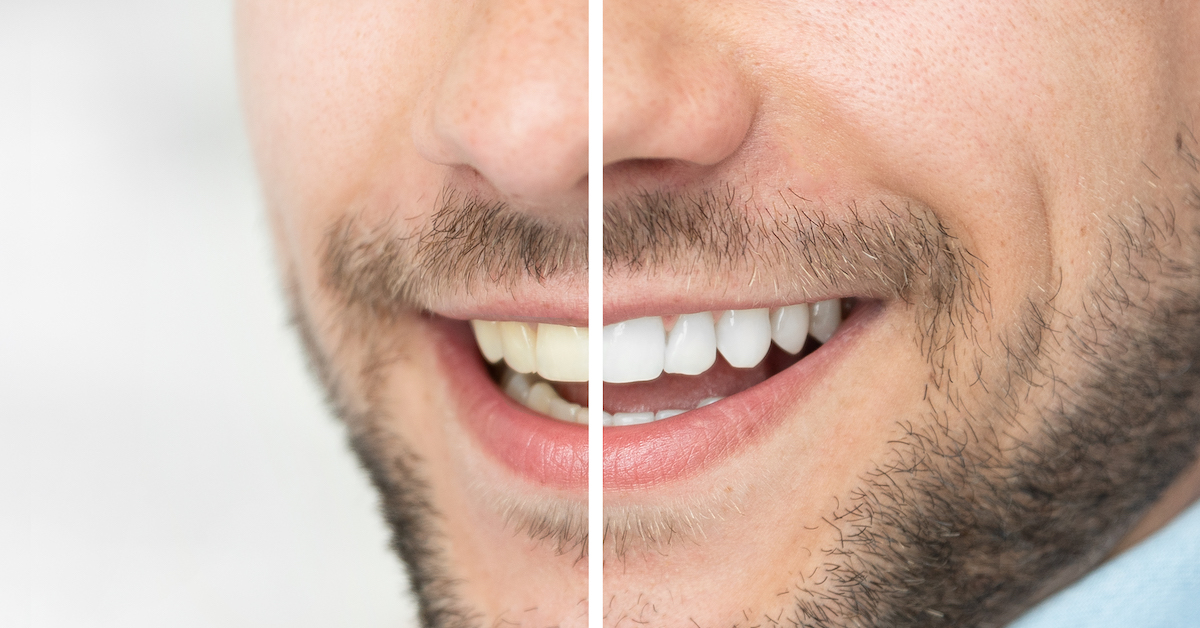 Managing your dental health can be challenging, especially when you have stained and discolored teeth. Stained, discolored or yellowed teeth can be a real blow to your self-esteem. Depending on the cause of your tooth discoloration, you may be able to reverse the problem! Here are some of the most important questions dental patients ask about stained, discolored or yellowing teeth.
What Causes Stains and Discoloration of Teeth?
Staining or discoloration of your tooth enamel can result from a number of different factors and conditions:
Dental decay can cause your tooth or teeth to become darkened in color.
Some medications are also responsible for damaging effects to your teeth. These include antibiotics, medicines for high blood pressure and antihistamines.
Smoking and chewing tobacco are sometimes responsible for causing yellowing or dullness of teeth enamel.
The foods you eat and beverages you drink can also play a major role in causing yellowing or darkening of your tooth enamel.
If you have discolored teeth, consider working with your dentist to determine the reasons for your tooth discoloration and find the best solutions for whitening your teeth and gums. This can help you to feel much more confident about your appearance and the impression you make on others at work and in social interactions.
Foods and Drinks to Avoid
Coffee, tea and dark red wine can stain your tooth enamel and cause your teeth to become less attractive. Brushing your teeth and rinsing your mouth after consuming these beverages can help you fight the staining effects of these drinks. Additionally, sweet, sugary and starchy foods can have a significant detrimental effect on the strength of your tooth enamel. Carbohydrates and sugars break down in the mouth when they are exposed to the bacteria that naturally live in this moist environment. The result of this combination of sugars and bacteria is called plaque.
Plaque is responsible for many cases of tooth decay and cavities, which can often lead to a thinning of tooth enamel and the darkening of exterior tooth materials as infection or damage to the teeth shows through the enamel. Being careful about what you eat and drink can have a major impact on the whiteness of your teeth and the attractiveness of your smile.
What Foods Should I Eat for Whiter Teeth?
Water is known as the universal solvent because it breaks down or washes away most substances right away or over time. Including plenty of water in your dietary plan can help you to rinse away food particles and to keep your teeth cleaner. If water is not to your taste, sugar-free drinks are almost as effective in rinsing away plaque and bacteria and helping you maintain whiter and brighter teeth. Foods that are rich in omega-3 fatty acids should also be on the menu. These important nutrients can reduce inflammation and lower your risk of developing periodontal disease. Finally, calcium and other minerals are necessary to build strong bones and healthy teeth. By incorporating these dietary choices into your regular routine, you can ensure that your teeth look great and function properly for many years into the future.
The Dental Dangers of Smoking
Tobacco use often has serious negative effects on the appearance of your teeth. Whether you chew, dip or smoke tobacco, the chemicals present in this material can have a significant negative effect on your overall health and on your teeth and gums. Smoking often causes inflammation of the gums, which is one of the first stages of gum disease. If you can quit, now is a great time to start enjoying the benefits of a tobacco-free lifestyle. Your teeth will thank you for it.
How Tobacco Stains Your Teeth
Nicotine and tar are present in tobacco. When tooth enamel is exposed to these chemicals, they can be absorbed into the pores of the tooth enamel to cause discoloration and yellowing. Regular brushing can remove some of these chemicals. In many cases, however, chemical whitening treatments are required to get rid of the yellow or brown color caused by smoking or chewing tobacco over an extended period of time.
Preventing Tooth Discoloration
Regular and consistent dental hygiene at home is the first line of defense against dull or discolored teeth. Brushing after each meal and flossing at least once per day is a good way to prevent plaque and tartar from gaining a foothold on your teeth. Rinsing your mouth with water can also help to eliminate food particles after meals. Your dentist may also recommend a mouthwash to help to brighten teeth and to keep your mouth healthier. Avoiding or reducing your intake of red wine, coffee and tea may also have a significant impact on the appearance of your teeth.
The Right Strategies for Whiter Teeth
No matter what you chose, consider discussing the issue with your dentist to find the best solution for your needs. Some of the services you can choose to whiten your teeth include the following:
Over-the-counter whitening strips, toothpaste, and mouthwashes can be effective if you just want to whiten or brighten your teeth a shade and you don't need it to happen immediately. Keep in mind that your teeth may become more sensitive when using these products.
Take-home, professional whitening kits for patients who need just a little extra help in improving the appearance of their teeth.
In-office whitening for the most dramatic and professional results.
Veneers that cover discolorations or stains on your teeth which cannot be fixed with over-the-counter or professional whitening.
Crowns to provide structural support as well as a more uniform appearance for your teeth.
The Best Dental Solutions for You
If you are looking for quality dental care in Rockledge, Rockledge Dental can deliver the right options for your needs, your budget and your ongoing dental health. Give our team a call today at (321) 252-0825 to schedule an appointment or to touch base with us about your tooth whitening options. We look forward to the chance to serve you.