Saving Your Tooth in a Dental Emergency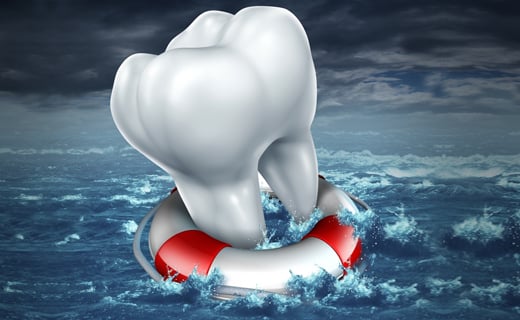 If your tooth gets knocked out, suddenly fractures or dislodges, do you know what to do? Acting quickly before you see the emergency dentist can save your tooth and reduce the chances of infection and other complications. Experts recommend getting to a dentist within 30 minutes of an injury. Since dental mishaps rarely occur at convenient times, it's best to have an affordable dentist in mind before accidents happen. You'll be able to make an appointment quickly, and you won't have to worry about huge treatment bills. Here are a few tips for handling common dental emergencies. 

 Knocked-Out Tooth

 Call your dentist immediately. Handle the tooth by its crown; do not touch its root. Rinse the tooth gently in clean water, but don't scrub. Place the tooth back in its socket if possible. If unable to do so, wrap it in a clean cloth and immerse it in cold milk. 

 Dislodged Tooth If a tooth has been pushed out of place, try to reposition it gently with your fingers. Don't force it. Bite down to keep the tooth in place until you can see the dentist. Tooth Fractures

 Rinse your mouth with warm, clean water. If swelling is present, apply an ice pack or cold compress. See your dentist in Rockledge immediately to determine the extent of damage and treatment options. Your dentist may be able to smooth a minor fracture. Moderate fractures may involve dentin or pulp tissues, so more extensive work may be necessary. If you have pain, take ibuprofen instead of aspirin. 

 Oral Tissue Injuries Injuries to the mouth, cheeks, lips, or tongue should be cleaned with warm water, and the injured person should be taken to a hospital emergency room for care. If there is severe bleeding from a tongue injury, pull the tongue forward and place gauze on the wound to reduce blood loss. 

 Emergency Dental Kit

 To be prepared for all dental emergencies, keep your dentist's phone number in an easy-to-find spot. Essential medical supplies include a handkerchief, rolled gauze or gauze pads, ibuprofen, and a small container with a lid for storing injured teeth. To learn about our family dentistry practice in Rockledge, call today at or make an appointment. offers affordable family dentistry and gentle, compassionate dental care in Rockledge. Our office is conveniently located with extended hours to meet your needs. At , we provide most dental services, from basic preventative care and general dentistry to specialized procedures and complete dental reconstruction. We accept most dental insurance plans and offer affordable financial solutions for any budget. Patient satisfaction is our top priority and we strive to provide the exceptional, affordable dental care and personal touch that lead to lasting relationships. A smiling patient is our greatest reward and we look forward to keeping those smiles healthy, beautiful, and bright. Discover an affordable dentist who truly cares at .