Tooth Sensitivity in Rockledge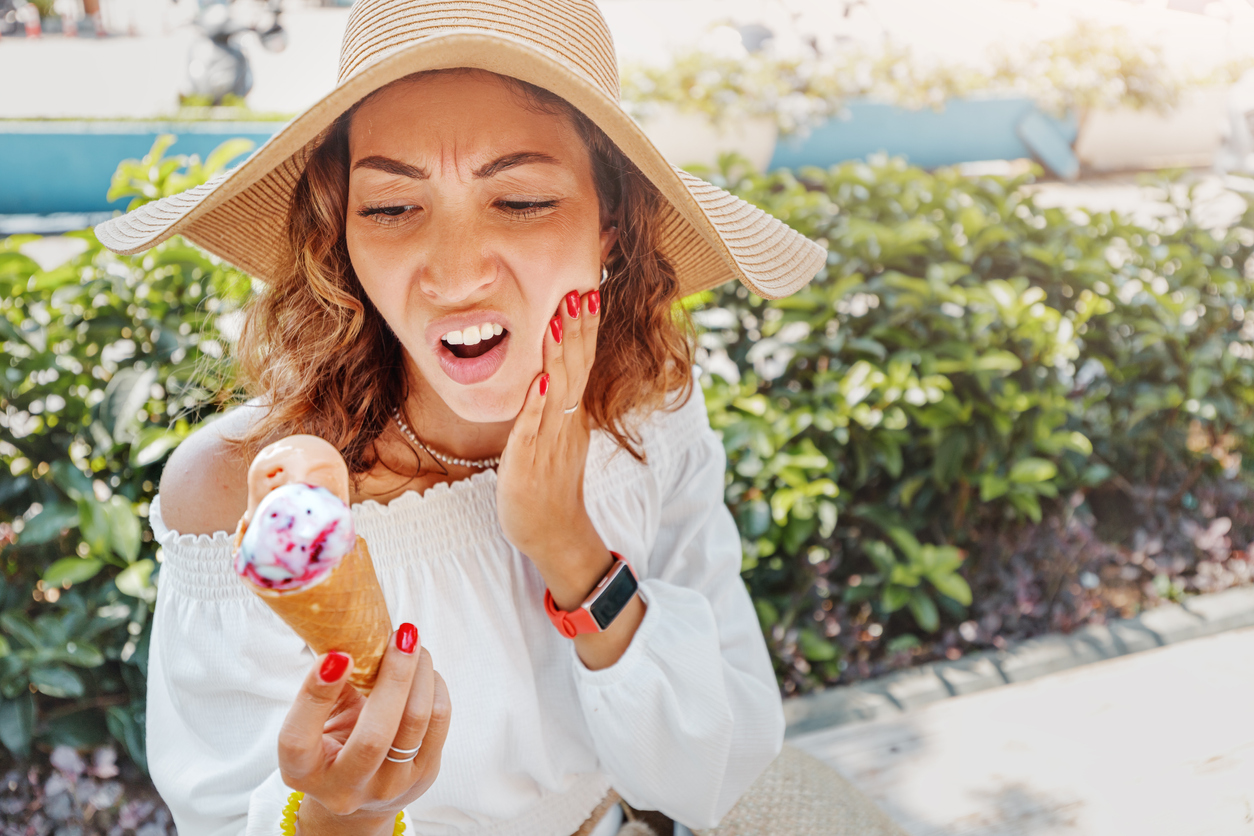 Have you ever noticed that certain foods and beverages leave your teeth feeling sensitive? Whether it happens during a sip of ice-cold water or a bite into a hot slice of pizza—tooth sensitivity is an uncomfortable condition. And when it becomes a barrier to your enjoyment, it's time to seek a solution. Our compassionate team at Rockledge Dental understands the impact tooth sensitivity can have on your daily life. Keep reading to learn about the nature of tooth sensitivity, its potential causes, and practical steps we offer to prevent it.
How Do You Know If You Are Suffering from Tooth Sensitivity?
Tooth sensitivity often occurs when an underlying layer of your teeth, called dentin, becomes exposed. Each tooth is made up of various components, including tooth enamel, cementum, dentin, and pulp. Tooth enamel is the strong outer layer that protects the inside of the tooth from damage and decay. However, if that enamel erodes or wears away, the dentin underneath is exposed, which can result in sensitivity and pain. This happens because the dentin contains tiny tubules that allow nerve signals to pass from the tooth to the brain.
What Are the Causes of Tooth Sensitivity?
Brushing too hard can gradually wear away the protective enamel, leaving your teeth vulnerable. Dental treatments like teeth whitening can also lead to tooth sensitivity. If you're interested in teeth whitening but are worried about sensitivity, talk to your dentist about options for sensitive teeth.
Additionally, age can play a factor, with sensitivity being highest between the ages of 25 and 30. However, adults of any age can suffer from sensitive teeth—one estimate says that more than 11% of the adult population in the U.S. reports this type of tooth pain. Plaque buildup on the root surfaces can also cause sensitivity, so it's important to maintain good oral hygiene habits. Certain mouthwashes can also contribute to sensitivity, and frequent consumption of acidic foods like citrus fruits, tomatoes, and tea can wear away the enamel.
When you talk to your dentist, be sure to mention your symptoms because more serious factors can contribute to this condition. Gum disease, for example, can lead to sensitivity when the root is exposed. Additionally, teeth grinding can wear down the enamel and expose underlying dentin. Cracks can also be factors in sensitive teeth. Regardless of the cause, it's important to seek treatment from a caring dental professional to address and alleviate the discomfort. Sensitive teeth can be frustrating, making it hard to enjoy hot or cold foods and drinks. By identifying the causes and getting quality dental care, you can once again enjoy your favorite indulgences without concern.
What Treatment Is Available for Sensitive Teeth?
If you're experiencing sensitivity, your dentist might recommend a few different treatments depending on what's going on. For starters, you might try using desensitizing toothpaste to block the pain. Fluoride treatments can also help by strengthening your tooth enamel. If your sensitivity is more severe, your dentist may suggest desensitizing or bonding treatments. In some cases, a surgical gum graft might be necessary to protect exposed roots and cut down on sensitivity. Whatever the issue, your dentist can help guide you toward the right treatment option for your needs. Don't suffer in silence; make an appointment today!
Are There Ways to Prevent Teeth from Becoming Sensitive?
Good dental hygiene habits, like flossing and using a soft-bristled toothbrush with fluoride toothpaste, are important, but it's also vital to be gentle when brushing your teeth. Putting too much pressure on your teeth when you brush can damage the enamel. Similarly, be mindful not to scrub your gums too vigorously, as this can cause damage to the protective surfaces near the roots. If you're unsure about which toothpaste to use, our dental professionals will be happy to provide you with a personalized recommendation.
Did you know that your diet could also be affecting your tooth sensitivity? High-acid foods can slowly erode your tooth enamel and make sensitivity worse. Watch out for citrus fruits, sticky candies, and soda pop. If you drink alcohol, be aware that it can contribute to tooth sensitivity. Lastly, avoid high-sugar, carb-loaded goodies for the sake of your oral health.
Affordable Dental Care in Rockledge, we strive to be your go-to source for comprehensive, affordable, and innovative solutions for all your dental needs. Our team of dental professionals puts their heart and soul into providing an optimal level of care that will exceed your expectations. No matter what dental issue you are experiencing, our team has the expertise and technology to deliver a personalized treatment plan tailored to your specific needs.

From preventive care to more complex treatments, we prioritize your safety and satisfaction above all else. Take charge of your oral health today, and schedule an appointment with Rockledge Dental. Relief from tooth sensitivity is just a phone call away! We look forward to seeing you soon!