Posted under:
General
Posted on: June 12, 2013
Top 3 tips to declutter your bathroom and improve your oral care regimen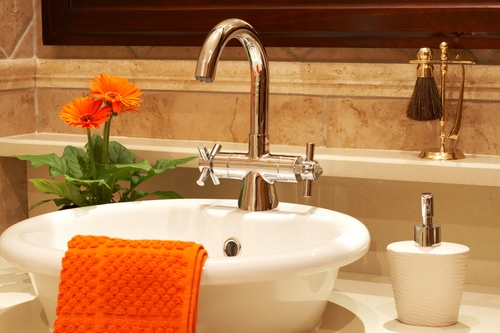 Bathrooms are easily one of the most high-traffic spaces in your home, and after awhile, the space's design could begin to look a bit stale. As a result, if you find yourself uninspired by your washroom, this could lead to the room's design suffering and waking up to a drab space each morning. The look and feel of your washroom can make a major difference in your oral care and overall hygiene regimen, as a modern and engaging space will get you more excited about the day ahead. If you're looking for a few upgrades in your bathroom that can leave you feeling more invigorated each morning, the following tips could work to your advantage.
1. Enhanced Lighting.
Whether you decide to add a series of decorative wall sconces, a ceiling fan with overhead lights or energy-efficient LEDs, you'd be amazed at just how different your bathroom will look with an updated lighting scheme. Accent lighting is another feature to consider, as ambient lights behind mirrors or other accessories could improve their dramatic impact. Consider bringing in an interior designer or a full-fledged lighting expert to plan a layout that works with your bathroom's dimensions and can provide a welcoming environment.
2. Update Your Bathroom Fixtures.
The surface on which you brush your teeth, wash your face and perform other hygienic tasks plays an important role in your everyday routine, so if your bathroom vanity isn't up to snuff, this is an ideal spot to revamp. Begin by picking a building material that will work with the color scheme of your bathroom, as well as a countertop that can stand up to the rigors of your space. Finally, look into modern sink and faucet designs. A dynamic vessel sink could be just what you need to revitalize the look of your bathroom and get excited about your oral care regimen.
3. Storage Options.
Whether you decide to install a few floating wall shelves, racks with storage baskets or create small cubbies inside of your walls, there's no shortage of options when trying to create additional storage space. Additionally, another eye-catching feature to consider is installing soap, shampoo and toothpaste dispensers. This will clear off plenty of clutter from your countertop and allow you to keep these everyday items well-organized in your bathroom.