Top 3 ways to decrease your chances of bad breath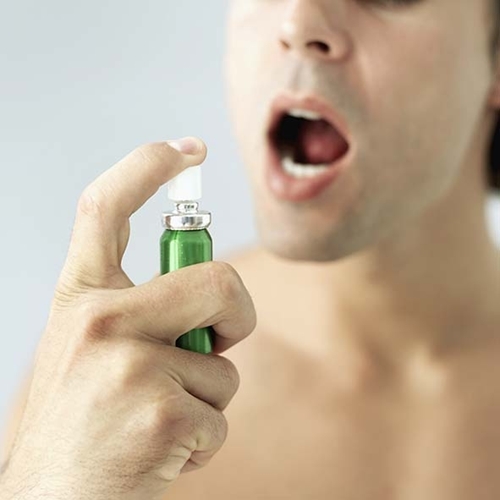 When you really get down to it, there are few social situations that are more awkward than knowing you have bad breath. Whether you're talking with your co-workers in the morning or out on a date, bad breath can sometimes reflect negatively on you and could affect your confidence in a variety of ways. Thankfully, there are ways that you can improve your dental health regimen and pinpoint the source of your bad breath. With a few simple changes in your oral care routine, you'll have one less thing to worry about in your day to day life!
Tongue brushing
According to OralWellness.com, 90 percent of bacteria that leads to bad breath is located on the tongue, so if this isn't normally a part of your brushing routine, it should be. Brushing the tongue or even investing in a tongue scraper can remove the vast majority of bacteria and lingering food particles that can contribute to smelly breath. Additionally, finishing with an antiseptic mouthwash can eliminate any bacteria that may be present after brushing.
Regular flossing
In addition to paying close attention to your tongue during your oral care regimen, regularly flossing can also make a major difference in preventing bad breath. According to DiscoveryHealth.com, the gaps between your teeth also harbor bacteria and food particles, as well as other particles that are trapped closer to the gum line that can contribute to smelly breath. Flossing at least once a day is a logical step in preventing bad breath and improving your dental hygiene overall.
Stay hydrated
We've all woken up with awful morning breath before, and getting rid of it can be a major chore. However, morning breath is made worse by a lack of proper hydration, which is why many dentists suggest bringing a glass of water to bed each night. The presence of saliva can help to inhibit bacterial growth, and it contains natural antibacterial properties that can help remove the lingering scents of food and other particulates that could be present in the mouth.
Visit the doctor
If your bad breath persists after all of these changes, there may be an underlying health issue that could be the source of the problem. This is a subject that can come up during a regular physical, so don't hesitate to talk to your doctor or your dentist about the issue if it continues.