What Is A Dental Filling?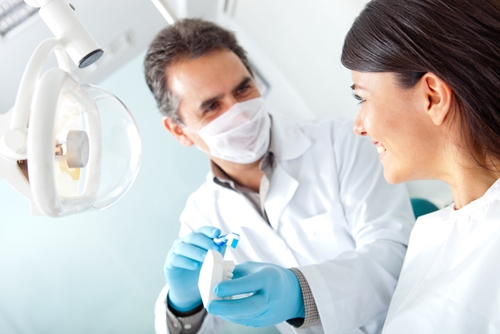 If your dentist has spotted a cavity in your tooth during a check-up, he or she may recommend filling the cavity so it does not turn into further tooth decay. The types of dental fillings available have changed slightly over the years, and you should discuss with your dentist which would be best for you.
Fillings can be made of many different types of material. In the past, you may remember getting silver-colored fillings. This material is called amalgam and is the easiest for the dentist to use, according to WebMD. A mixture of mercury, silver, tin or other metals, amalgam makes the procedure quick and inexpensive. On the other end of the spectrum are gold fillings. These are costly and difficult to work with, which can make the procedure more difficult and lengthy.
There are a variety of tooth-colored fillings today, too. Composite resins are commonly used on the front teeth, but can also be used elsewhere. Ionomers are usually used for smaller cavities, especially those between the teeth. Sometimes, this substance can release small amounts of fluoride, so a dentist may recommend it if you get cavities frequently.