What to Expect While Your Baby's Teething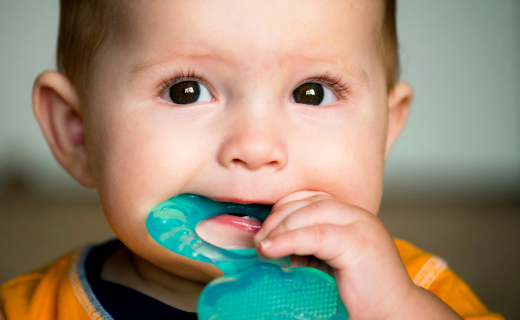 The emergence of your baby's primary teeth through gum tissue, commonly called teething or tooth cutting, will probably start when he or she is about six months old, but it may take longer. The characteristic symptoms will continue until your baby has cut all 20 primary teeth. Late tooth eruption is not necessarily a reason for concern; the timeline is governed by hereditary factors and is not related to your child's health. Girls tend to cut primary teeth earlier than boys. If no teeth have made an appearance by 18 months of age, consult a kids' dentist for advice. Primary Tooth Eruption Patterns vary, but most children's primary tooth eruption follows a specific sequence. The two front bottom teeth come in first; these are followed by four upper front teeth called central and lateral incisors. Two lower lateral incisors are next, followed by first molars. The four canine teeth erupt next to the upper and lower lateral incisors. Lastly, the remaining molars come in to make a complete set of 20 primary teeth. By age 14, primary teeth are replaced by 28 permanent teeth. Wisdom teeth, or third molars, will not arrive until your child's late teens. Teething Symptoms
Irritability
Swollen gums and soreness
Constant, excessive drooling
A rash on the chest or face
Biting down on hard objects
Sleep disruptions
Pediatric dentists offer the following five tips for easing discomfort while your baby is teething:
Rub your baby's gums gently with your finger, a cold spoon, or wet gauze.
Offer cold foods and beverages if your baby is eating solid foods.
Provide a teething ring or pacifier or allow your baby to suck on a clean, cold, moist cloth.
Do not cut your baby's gums, apply powdered products or aspirin, or give any form of alcohol.
If teething symptoms are severe, pediatric dentists can recommend mild pain relievers.
Your child should visit a kids' dentist approximately six months after the first primary tooth erupts. Follow your pediatric dentist's advice about follow-up visits and early dental care practices. To get the dental care you deserve from an affordable dentist in Rockledge, call today at or make an appointment. offers affordable family dentistry and gentle, compassionate dental care in Rockledge. Our office is conveniently located with extended hours to meet your needs. At , we provide most dental services, from basic preventative care and general dentistry to specialized procedures and complete dental reconstruction. We accept most dental insurance plans and offer affordable financial solutions for any budget. Patient satisfaction is our top priority and we strive to provide the exceptional, affordable dental care and personal touch that lead to lasting relationships. A smiling patient is our greatest reward and we look forward to keeping those smiles healthy, beautiful, and bright. Discover an affordable dentist who truly cares at .