Why get dental insurance?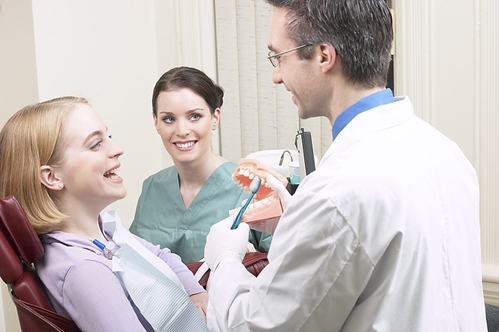 For many Americans, health insurance is just another monthly bill they'd prefer to do without, and when it comes to their teeth, some may be even less inclined to shell out the cash each month. However, dental insurance is one of the most important types you can get for your family.
For some people, dental care can be as simple as brushing and flossing, but a dentist is trained to detect other conditions like gingivitis or periodontal disease, which could have serious health consequences. Gum disease is the primary cause of tooth loss in adults over the age of 40. Dental insurance makes both routine and more serious dental care affordable for families and individuals.
Dental insurance can save you money
A typical dental cleaning can cost between $75 and $200, but with dental insurance like DentRite, you pay only $10 per cleaning. Dental insurance like this can also save you money on X-rays, fillings, crowns, partials, dentures, extractions and other oral surgeries. In the case of root canals, gum disease procedures and braces, dental care can get even more expensive, but insurance can save individuals money on all these procedures.
Do I have dental insurance?
Sometimes, dental insurance is included in health insurance packages. However, if you have coverage under the Affordable Care Act, also known as Obamacare, you may not have dental included. Obamacare does not include dental insurance for adults, though the insurance plans that will be part of this insurance in 2014 are required to provide oral healthcare to children. Still, a family of both adults and children might want to consider a separate dental health plan like DentRite to ensure each member of their family stays healthy.
What should I look for in dental insurance?
When you look for the right dental insurance for you and your family, you should make sure it covers teeth cleanings, X-rays, fillings, crowns, dental surgeries and special procedures like root canals. You will also want to make sure your plan does not have an age limit, deductibles, maximums or exclusions for pre-existing conditions.
You might also want to look into dental savings plans as opposed to traditional insurance. With this type of coverage, you pay as you go, as opposed to having a fixed rate each month. When you sign up, you pay a fee – $30 for individuals or $50 for families. After that, you only pay when you have to visit the dentist, then again when its time to renew. For a single adult, this could mean you pay just $50 a year – $30 to sign up then $10 for each cleaning.